Skip to Content
A Different Philosophy with Feastivities Events
Feastivities Events look at each event they work as a special occasion instead of just another menu they have to create. They assist with all the party's details, as well as providing the food. Most people come to them with their dream event in mind and they assist in making those dreams become reality.
They believe that the most talented caterers have the ability to portray a range of roles with ease. It's no problem for them to host an elegant tent wedding, Western-style barbeque, formal corporate gala or holiday cocktail hour for your next event at the Collingswood Grand Ballroom.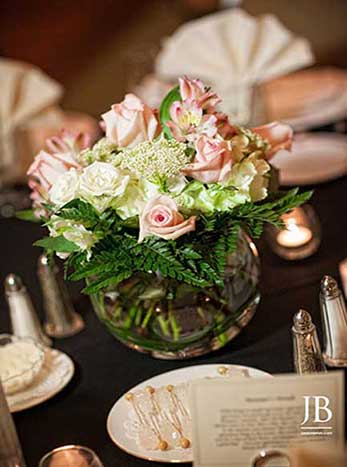 Why Choose Feastivities Events for Your Next Event
Feastivities are doing their part to reduce the carbon footprint left behind at big events and provide all compostable, biodegradable and recycled materials that will help you host an environmentally sustainable event. Producing sustainable events not only benefits the environment but has helped foster a positive relationship with us at the Ballroom. This is one of the many reasons they are a preferred caterer with us.
Feastivities Events has an amazing menu for you to checkout and their menu packages include buffet tablescapes, performance stations, chef bar/cart service and formal seated dinners. All of their packages include:
12 Passed Bites
One Cocktail Display
Main Course Menu
Wedding Cake, One Dessert and Coffee Display
All Kitchen Equipment, Serving Equipment, China, Glass and Flatware
Bar Set-Ups
Labor
Be sure to keep Feastivities Events in mind when looking for a truly unique and environmentally safe catering company for your next event at the Collingswood Grand Ballroom. They cook on sight or even more freshness for your event!